The single-sign-on accounts for Fortinet websites are used for sites such as support.fortinet.com and forticloud.com. There are a whole lot of other Fortinet sites that use the same login.
All accounts are required to change their passwords on a regular basis. If you do not change your Fortinet account password, the account will be placed in a locked status.
If you try to log in to your Fortinet Account while it is locked, the following message to enter a security code is shown:
To unlock your account, you can simply use the "Forgot Password?" link on the login site.
Since an update in the single-sign-on solution that Fortinet is using, the message "Your account has been locked" is not shown anymore. Instead the above shown message is being displayed. By the way: We have never received a security code during our tests.
---
How to reset your password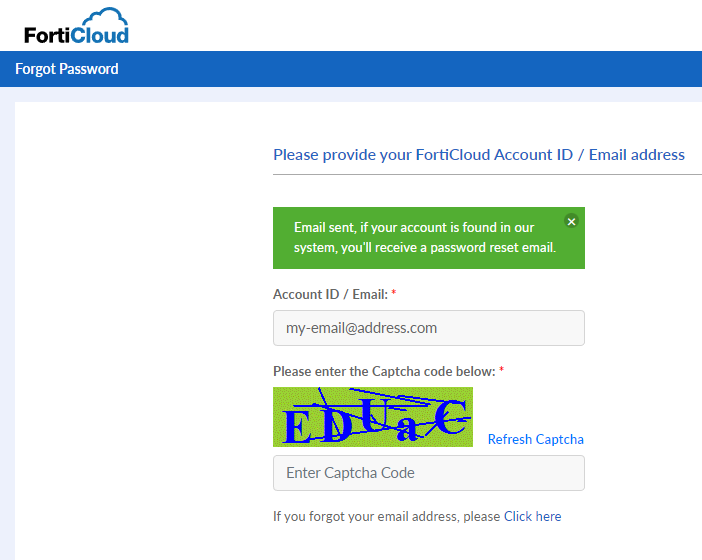 Fortinet has sent you four reminders before your password has expired and your account got locked. The reminders are sent 14, 7, 3 and 1 day in advance of the password expire date. Those messages look all similar and have the following content:
From: Fortinet Customer Service and Support <no-reply@fortinet.com>
Subject: Your Fortinet Support Portal password expires in [1/3/7/14] day(s)
Message:
Dear Customer,

Your support.fortinet.com password for "my-email@address.com" expires on Monday, January 1, 2022 00:00 PST (UTC -0800).
If you don't change your password before it expires, your account will be deactivated.

Please login to the Fortinet support portal and change your password at the Credentials page.

Best Regards,
Fortinet Customer Services and Support

The passwords have to be changed all three months. The reminder messages are being sent to the account username email address.
At the day that your account has expired, you also receive the following message:
From: Fortinet Customer Service and Support <no-reply@fortinet.com>
Subject: Your Fortinet Support Portal password has expired
Message:
Dear Customer,

Your support.fortinet.com password for "my-email@address.com" expired on Monday, January 1, 2022 00:00 PDT (UTC -0800). As a result, your account has been deactivated.

Please login to the Fortinet support portal and change your password at the Credentials page.

Best Regards,
Fortinet Customer Services and Support