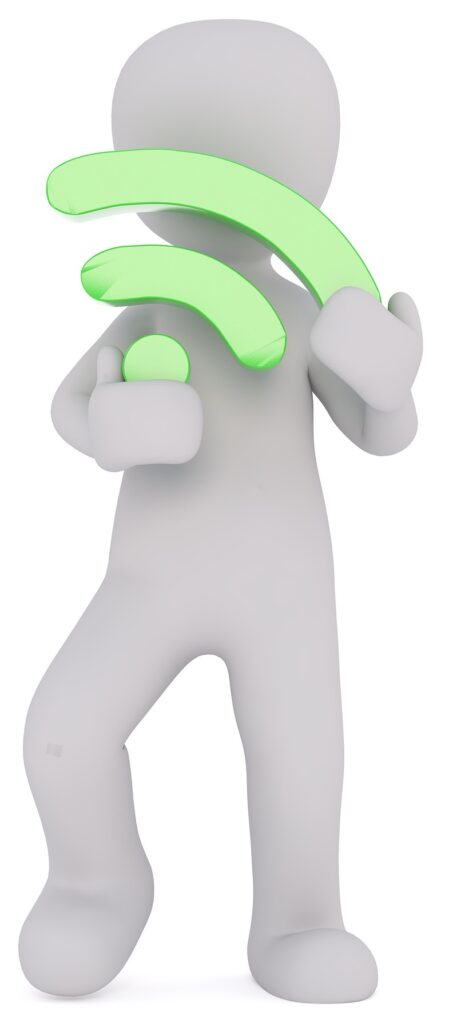 We noticed some interesting facts about the new large FortiAP G-Series models that we would like to share with you: When we studied the datasheet and the quick start guide of these new access points, we were surprised to see a drastic increase in power consumption:
The maximum power consumption of a FAP-431F model was limited to 24.5 watts, but the new G-Series version could draw up to 31.7 watts!
The fact that Power over Ethernet has some strict power limits, should concern us now.
For example, the older 802.3af PoE standard can only deliver up to 15.4 watts of power to a device. At least since the newer and widely adopted 802.3at standard, this limit is 25.50 watts.
But this leads us to the following simple calculation:
25.50 watts of power delivery - 31.7 watts of power consumption = missing 6.2 watts to meet specifications ☹️
So even if we use the 802.3at standard for the power delivery, we are still missing about 6.2 watts of power at the consumer end. What now?
Solution 1 – Just ignore the problem
Well, Fortinet has obviously done the same calculation, as they have overcome this problem by reducing the AP's transmit power when powered by an 802.3at PoE connection:
[…] Single 802.at PoE with no USB and reduced Transmit power.

FortiAP G series datasheet
Now many of you will say that this is no longer a problem because this is a valid solution.
Yes and no. Yes, because it solves the problem for most scenarios. If we had to guess, most customers will deploy these APs without even realising it.
And no, because you have a limited product that ends up not being used to it's full potential.
We also have no specific numbers on how much the transmit power is being reduced.
Fortunately, there are three other solutions that are much more elegant than simply ignoring the problem:
Solution 2 – Provide 802.3bt PoE that delivers up to 71 Watts of power
In our opinion, this is the most recommendable solution:
The 802.3bt PoE standard, which can deliver up to 71 watts to the consumer. You're good, problem solved. 👍
As the 802.3bt PoE switches are quite expensive and still very rare, let's move on to other possible solutions …
Solution 3 – Dual PoE current sharing
You can simply double your 802.3at PoE lines to double the power.
This is called "Dual PoE current sharing" and it can also solve the problem and is a valid solution if you have two network ports per AP in your building.
51 watts of power delivery - 31.7 watts of power consumption = plenty of Watts to run the FAP-431/433G at full power! 🙂
Problem solved. Sure, it uses twice as much copper as the previous solution. But since the APs are capable of moving more than 1Gbps anyway (at least the higher-end models), having two 1Gbps links in a LACP trunk might be a very good solution. By the way: This is only a nice solution, if you can not offer the AP a 5gbit/sec port, since some APs do support up to 5gbit uplink speed (100/1000/2500/5000mbit/sec).
Please ensure to configure the AP like documented with LACP or "uplink redundancy without LACP" to prevent Layer 2 loops in your network. It is also possible to disable the second network port on the FortiSwitch. In the case of FortiSwitch, the power supply of this port will stay up: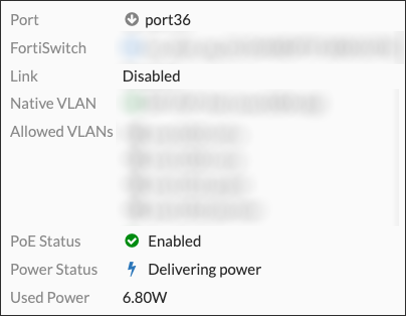 Solution 4 – Plug-in power supply
If nothing else works, of course you can always use an external power supply to fully power your FortiAP.
---
Power modes on the FortiAP 431G/433G
Fortinet has designed three power modes on those FortiAPs. You can see on the FortiAP GUI (located under WTP configuration) what power mode is enabled on the FortiAP:
The following modes are available:
Mode
PoE mode
Radio operation
USB operation
Low
1x 802.3af
All radios disabled
USB disabled
High
1x 802.3at or
2x 802.3af
MIMO 2×2, Max. TX power
USB disabled
Full
1x 802.3af + 1x 802.3at or
2x 802.3at or
1x 802.3bt or
DC power supply (12V, 4A)
MIMO 4×4, Max. TX power
USB enabled
What do you think about it? Let us know and share your experiences in the comment section below.