FortiClient EMS is a central endpoint management solution from Fortinet. There are three possible license types and it is not always possible to change the license state between different license types. This article will bring light into the dark of FortiClient EMS license upgrading.
Free trial license
A free trial license cannot be converted to a subscription license. If you decide to buy a license and want to keep the configuration made on the free trial license instance, you can register the new license as new unit. This will generate a new serial number/unit within your Asset Management on FortiCloud. Make sure you use the same account as for the free trial license. Once the new unit is available in the "Asset Management", you need to copy the Hardware ID from the free trial unit to the new unit. The Hardware ID can be found in the "Asset Management" under "Product Information" of your EMS unit.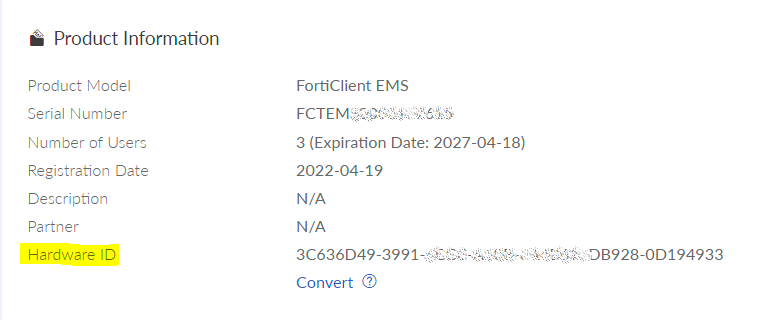 As next step the free trial unit must be decommissioned. Here is a link explaining how to decommission a unit: https://docs.fortinet.com/document/forticloud/latest/asset-management/622713/viewing-decommissioned-units
Once the old unit has been decommissioned you can sync the license on the FortiClient EMS using "Sync License Now". After the synch and based on the Hardware ID, FortiClient EMS will now automatically change the serial number according to the newly registered unit.
Evaluation license
An evaluation license can be converted to a subscription license. To do so, you have to register and enter the new license code in your "Asset Management" of your FortiCloud account and click "Next". Make sure that you use the same account as you have used for the Evaluation license. At this point you will get two options, "Upgrade" or "Register new". Select the option "Upgrade" and proceed. The system will show the existing EMS serial number of the Evaluation license. Select the serial number and proceed. At this point the Evaluation license is converted to the subscription license. Once the license registration is completed, you have to download the license file and upload it to the FortiClient EMS server in order to update the purchased license details. You should also be able to synchronize the license from the FortiClient EMS using "Sync License Now".
Additional information
In both above cases, all the features for which you have purchased a license for, will stay active and configured on the managed Endpoint side. Features that are not purchased will be grayed out on the Endpoint.